Recipes
Quick & Easy
Pasta
Appetizers
Soups
Main Courses
Salads
Pasta Salads
Risottos
Recipes by Region
Mideast Recipes

Basics
Ingredients
Utensils
Cheeses
Wine

Glossary

FAQ

Cookbooks

Tell a friend



Cooking Classes
Cooking classes in the U.S. and Italy.

---

Gastronomy Tours
Tour Wine & Olive oil country and other regions.
---

Links
Links to other sites of related interest.
---

Sources
Where to buy special ingredients and utensils.
---

Ask the Chef
If you don't find your recipe.
---
<<

PREVIOUS

- BROWSE RECIPES -

NEXT

>>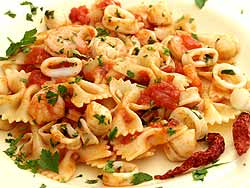 PASTA ALLO SCOGLIO - SEAFOOD PASTA
Spaghetti allo scoglio
Prep: 15 min; Cook: 30 - 40 min
Easy
Serves 4

Pasta sauce with frozen seafood and canned tomatoes (Go here for a recipe with fresh tomatoes and seafood). We cook the seafood separately and keep it aside until the end to keep the flavor distinct.
1 1-pound package mixed, raw seafood, defrosted and set to dry on paper towels.
1 28 ounce can Italian style tomatoes
4 tablespoons extra virgin olive oil
2 garlic cloves, minced
3/4 teaspoon dried crushed red pepper or 1/2 dried pepperoncino
1/2 cup dry white wine
4 tablespoons chopped fresh parsley
1 package sphaghetti, linguine, penne or farfalle or similar pasta
salt and freshly ground pepper to taste

 

Skillet or wok large enough to accomodate entire dish; pasta pot.



DEFROST seafood, place on paper towels over newspaper to drain well. Pat dry.

IN a large skillet heat 3 TBSP olive oil and gently sautée 2 cloves minced garlic and 2 TBSP parsley until garlic is transparent. Add defrosted seafood and a pinch of salt and raise heat. Cook seafood, stirring occasionally, until ingredients change color (as in shrimp) or become transparent (squid) - 2 to 3 minutes.

USING a slotted spoon, transfer the cooked seafood to a separate plate, reserving in the cooking liquid in the pan.

ADD 1 cup white wine and the canned tomatoes with their juice. Break up the tomatoes into smaller pieces with a wooden spoon and cook uncovered over medium heat until tomatoes are soft and sauce is reduced, about 1/2 hour.

COOK the pasta..

ABOUT 3 minutes before pasta is done, add seafood to tomato sauce, stirring once or twice, to warm it.

WHEN pasta is ready, add the cooked, drained pasta to the sauce and stir well (you can also do this in a warmed serving dish). Garnish with fresh, chopped pasrley and add another 1 - 2 TBSP olive oil if you wish.

SERVE in pan or in hot serving dish.





<<

PREVIOUS

- BROWSE RECIPES -

NEXT

>>


†
Copyright © 2000,2012 e-rcps.com, All Rights Reserved