<<

PREVIOUS

- BROWSE RECIPES -

NEXT

>>
Artichoke, Tuna and Black Olive Pasta Salad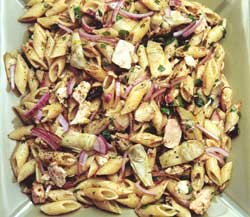 Serves 4 - 6
Preparation - Easy
A fully satisfying meal for a summer lunch or supper. Can be prepared ahead of time and refrigerated. In fact, the flavor improves as it sits for a few hours.
8 oz marinated artichoke hearts, or more to taste
1 6-oz can tuna packed in oil or water, drained and flaked
12 oil cured black olives, pitted and coarsely chopped
1/3 cup Spanish onion or more, thinly sliced
2 T fresh parsley, chopped
3 T extra virgin olive oil or more to taste
3 T red-wine vinegar or lemon juice
1 t balsamic vinegar (omit if using lemon juice)
salt and freshly ground black pepper
1/2 lb mini penne, farfalle, any flat pasta
Set the pasta water to boil.
Make the dressing of oil, vinegar, salt and pepper.
Prepare olives, tuna, onion, artichoke hearts and parsley.
Cook pasta to desired doneness.
Drain well.
Add dressing and toss covering the warm pasta in a film of dressing.
Add the rest of the ingredients, one at a time tossing lightly.
Taste for seasoning.
Sprinkle with parsley.
Serve at room temperature or cold.
<<

PREVIOUS

- BROWSE RECIPES -

NEXT

>>


Copyright © 2000,2012 e-rcps.com, All Rights Reserved