Recipes
Quick & Easy
Pasta
Appetizers
Soups
Main Courses
Salads
Pasta Salads
Risottos
Recipes by Region
Mideast Recipes

Basics
Ingredients
Utensils
Cheeses
Wine

Glossary

FAQ

Cookbooks

Tell a friend



Cooking Classes
Cooking classes in the U.S. and Italy.

---

Gastronomy Tours
Tour Wine & Olive oil country and other regions.
---

Links
Links to other sites of related interest.
---

Sources
Where to buy special ingredients and utensils.
---

Ask the Chef
If you don't find your recipe.
---
<<

PREVIOUS

- BROWSE INGREDIENTS -

NEXT

>>
OREGANO AS USED IN ITALIAN COOKING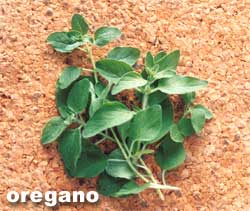 Origano

An herb that grows wild in central and southern Italy and the rest of the Mediterranean countries. Has a much stronger flavor dry than fresh but just as good. However use less dry oregano, as the flavor is more concentrated. Used on pizza and in sauces as well as vegetables. Very popular in Sicily where it is often added to preserved olives. Easily grown in a pot.

<<

PREVIOUS

- BROWSE INGREDIENTS -

NEXT

>>

Copyright © 2000,2012 e-rcps.com, All Rights Reserved