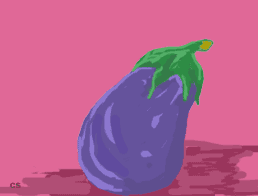 PASTA WITH EGGPLANT, MEAT AND TOMATO SAUCE

BAKED SICILIAN STYLE
Pasta con le melanzane


Sicily
Preparation - Medium
Serves 8


The tomato sauce or the complete casserole can be prepared ahead of time and frozen or refrigerated. If frozen, make sure it is completely defrosted and at room temperature before placing in oven. If refrigerated, remove from fridge an hour or so before baking.

INGREDIENTS:

- For the eggplant:
4 lbs eggplant
coarse salt
1 TBSP olive oil
- For the sauce:
2 medium onions, chopped
1/2 lb ground beef
2 T fresh basil, torn into pieces
2 bay leaves, fresh if possible
coarse salt and freshly ground black pepper
1/2 t ground cinammon
1 1/2 lbs fresh ripe tomatoes, peeled and seeded, or the equivalent in canned Italian plum tomatoes
1 T tomato paste
- For the pasta:
1 lb package rigatoni or penne pasta
4 TBSP unsalted butter
2 oz freshly grated Gruyere cheese
4 oz freshly grated Parmesan cheese
METHOD:
PREPARE the eggplant. Set aside on paper towel.
HEAT olive oil in a large skillet or saucepan.
ADD onions and sauté till light gold in color.
ADD the meat, basil, bay leaves, salt, pepper, and cinnamon.
SAUTÉ over medium heat till meat is lightly browned.
ADD the tomatoes and tomato paste.
SIMMER for 15 minutes.
COOK the pasta until just al dente.
DRAIN; then mix with 2 TBSP butter, mozzarella and Parmesan.
REMOVE the bay leaves from the sauce.
ADD the sauce to the pasta, toss well coating pasta with sauce
PREHEAT oven to 350° F.
GREASE an 8x12 inch rectangular baking dish or casserole.
COVER the bottom with a layer of eggplant slices
COVER that with 1/2 the pasta and meat mixture, then a layer of eggplant, pasta and finishing off with a layer of eggplant.
BAKE for 35 minutes, or until lightly browned.
Per serving: Calories 724 - Protein 21g - Total Fat 44g - Sodium 968mg - Cholesterol 45mg - Carbohydrates 65g - Fiber - 2g

Adapted from:
Italian Cooking in the Grand Tradition
Jo Bettoja and Anna Maria Cornetto
The Dial Press