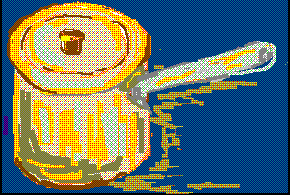 TURKEY STUFFING RECIPE
+Lo Chef.
Prep:

30 min

; Cook:

30 min

; Total Time:

1hr




Preparation - Medium


Yield:

Serves 8
Tasty stuffing with dried fruit and chestnuts to go with roast turkey.
INGREDIENTS:
1/4 cup dried apricots, prunes or cherries or a combination, coarsely chopped
1 1/2 cups chestnut meats; available either frozen or unsweetened and canned (may be omitted)
4 TBSP (1/2 stick) unsalted butter
1 cup chopped celery
1 cup chopped onion
2 shallots, chopped
2 cups chicken stock
1 15-ounce package unseasoned bread stuffing or a 1 lb loaf of French, Italian or whitebread cut in 1/4-inch cubes and lightly toasted on baking sheet in oven on low heat
1/2 cup chopped parsley
1 TBSP fresh thyme leaves chopped or 1 tsp dry (if bread/stuffing is seasoned, omit)
Freshly ground black pepper 3 - 4 grinds or 1/4 tsp
1 large egg (optional)

Frying or Sauté Pan, Bowl large enough to mix stuffing.
METHOD:
COARSELY chop the chestnuts.
MELT 4 tablespoons of butter in a large skillet.
COOK the celery, onion, and shallots over medium heat until greens are wilted, 8-10 minutes stirring occasionally.
ADD 1 cup of the stock and cook until the liquid has almost evaporated.
PLACE bread cubes in a very large bowl.
ADD all ingredients and toss with a wooden spoon or use your hands.
BREAK in the egg.
ADD the remaining stock.
USING your hands, combine all ingredients thoroughly and season with salt and freshly ground pepper salt sand pepper. (The stuffing can be prepared up to this point a day in advance, but remove it from the refrigerator 4 hours before serving time.)
MAKE sure the stuffing is cool before placing inside the bird.
NOTE: STUFFING may be cooked separately in a buttered casserole for 1 1/2 hours at 325 degrees.